About Us
Since 1981, Merrell has been a top provider of performance outerwear, helping people combat the elements and conquer their summits.
1981 — Randy Merrell's Boots
"The best hiking boots ever made" – that's what Randy Merrell's American customers were saying in 1981. The U.S. publication 'Backpacker Magazine' named Merrell boots "the most comfortable and functional boots in North America." That's just the beginning of our history. Word spread, and - like all legends - ours grew. Today, we're much more than just boots. We're the gear that gets you out there – from city streets to mountain trails (and everywhere in between).
1983 — Women's 'Last' Introduced
When it comes to the differences between men and women, feet might be the last thing you think of, yet their feet are significantly different. Which is why when we build women's footwear, we don't take a 'one-size-fits-all' approach. We design our 'lasts' to fit the unique profile, bone structure and stride that women need for greater comfort and performance.
1985 — Eagle Boots Debut
Eagle boots combined running shoe performance with back-country utility to create lighter and faster footwear for the trail. It was the first of its kind in Merrell history, and the beginning of our movement toward ground-breaking multi-sport technologies.
1988 — Backpacker Magazine's 'best hiker'
We've won a lot of awards, but winning Backpacker Magazine's Best Hiker for Merrell Leather in '88 was special. In fact, they called our boots "the best in the world." Over a decade later, we're still making 'em like we used to.
1989 — Merrell Goes Global
Our footwear had forded a lot of streams and stomped through plenty of puddles by 1989, but crossing the pond from the U.S. to the U.K. was the biggest splash in Merrell history yet. It announced that even an ocean-sized boundary couldn't hold Merrell back from breaking new ground or exploring the world outside. (And sure enough, a decade later, we made our way Down Under to the stunning shores of Australia.)
1992 — Merrell Hits 38 Employees
Throughout the history of the Merrell brand, our people have designed, tested and promoted the footwear that sets us apart. We're proud of our accomplishments and thank them for making us who we are today. Here's to the original 38 from 1992.
1993 — Our Original Cross-Trainer
Front Range was the next evolution in our pursuit of faster and lighter footwear. We started with lightweight leather uppers and built them on a more agile athletic platform. The result provided runners and hikers with speed, stability and durability. It was the first in a long line of multi-sport and cross-training products designed to help you go farther, faster.
1995 — Vibram® Brings New Sole to Merrell Footwear
Vibram has led the way to summits like Mt Everest and K2 for decades. Famed for their lightweight, long-wearing and flexible soles that provide excellent traction and high abrasion-resistance, the Vibram team was a perfect fit for our high-performance footwear.
1998 — After-sport Jungle Mocs – the 1st of their Kind
The Jungle Moc makes Merrell and industry history by creating the new After-sport category of casual shoes. These slip-ons featured the comfort technologies from our performance footwear but in a casual format. Molded nylon arch shanks, compression molded EVA footframes, Merrell Air Cushioned heels and sticky rubber soles provide the perfect fit and comfort after a hard day of play. Fast forward to 2011. Filmmaker Morgan Spurlock calls the Jungle Moc "The greatest shoe ever sold," in his movie The Greatest Movie Ever Sold.
1999 — Introducing Little Feet to Big Performance
The launch of Merrell Kids brought all-ages fun and performance to our line-up of footwear. Today, we've expanded to fit every kind of adventure with every kind of footwear, from boots, sandals, Jungle Mocs, shoes and even Barefoot—but more about that later. Speaking of kids, this is the year they named NSYNC their favourite group at the Kids' Choice Awards. Ah, the 90s. Goodbye 20th century, hello 21st.
2002 — Introducing the World Collection
Exploring the outdoors is a consistent theme in Merrell's history. We've been known to follow our own path wherever it takes us. That includes heading out to distant shores. Our travels inspired a new collection of footwear that blended sophisticated style with our legendary outdoor performance. Check out the World Collection.
2003 — QForm® Comfort Technology for Women
Building on our history with the Lasts collection, QForm technology was developed in partnership with Sport Biomechanics, Inc. to create customised footwear for women. By addressing the anatomical and biomechanical differences between men and women, we engineered a midsole that provides unique support, cushioning and corrective positioning to help women go farther in exceptional comfort and performance.
2004 — Team Merrell Founded by Robyn Benincasa
We were incredibly honoured to have Robyn found Team Merrell. She's gone on to rack up an impressive list of accomplishments over the years. She's a 2-time adventure race world champion, 10-time Ironman finisher, and Guinness world record holder for 24-hour flat-water paddling, to name just a few. Team Merrell includes a roster of 10 of the most inspirational outdoor athletes competing today. We couldn't be more proud to sponsor their achievements and help them reach their goals.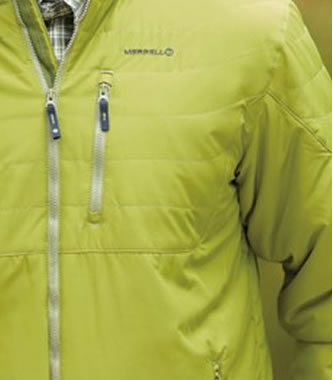 2006 — Merrell Apparel Launched – and more
2006 was a big year in Merrell's history. It marked the debut of our line of outdoor adventure-wear for men and women. Over the coming years the line would grow to include several apparel technologies, like Opti-Shell, Opti-Warm and AreoBlock. Eventually this evolved to the M-Select line in 2013 with M-Select Dry waterproof gear, M-Select Warm insulation and M-Select Wind protection to name a few. Check out the benefits that come with M-Select technologies from Merrell to get outside and brave the elements.
It was also the year Merrell UK won Drapers Footwear Brand of the Year. The magazine has been an authority on UK fashions for 120 years. Cheers, Drapers. Thanks for the award and a cracking good time.
2009 — Merrell Partners with National Parks Foundation
Outside at its best. That's what the millions of acres within our public lands provide each and every visitor. Naturally, we've made preserving the majesty and beauty they contain one of our top priorities. Through our partnership with the U.S. National Parks Foundation, we're raising awareness of the challenges America's National Parks face and helping people see the importance of conservation and stewardship.
2011 — Turning 30, launching Origins
We celebrated our 30th year with the launch of Merrell Origins. The collection brings back top styles from the Merrell brand's history, such as our Wilderness, Eagle and Solo footwear from 1981—all updated with modern technologies for even better comfort and performance. Also in 2011, our partnership with Vibram® continued with the launch of Barefoot – a collection of low-profile, 0mm heel drop shoes for all your outside adventures.
The Future
Standing still isn't part of our plan. We're constantly innovating new technologies and products to help you get outside. Here's to another 30 years of adventure! Let's get outside.